The Department of Chemistry, Forman Christian College (A Chartered University), Lahore is organizing a three-day international conference "Exploring New Avenues in Medicinal Chemistry: Opportunities and Challenges" from January 21-23, 2015 in collaboration with Higher Education Commission of Pakistan, Royal Society of Chemistry and NovaMed Pharmaceuticals (Pvt.) Ltd.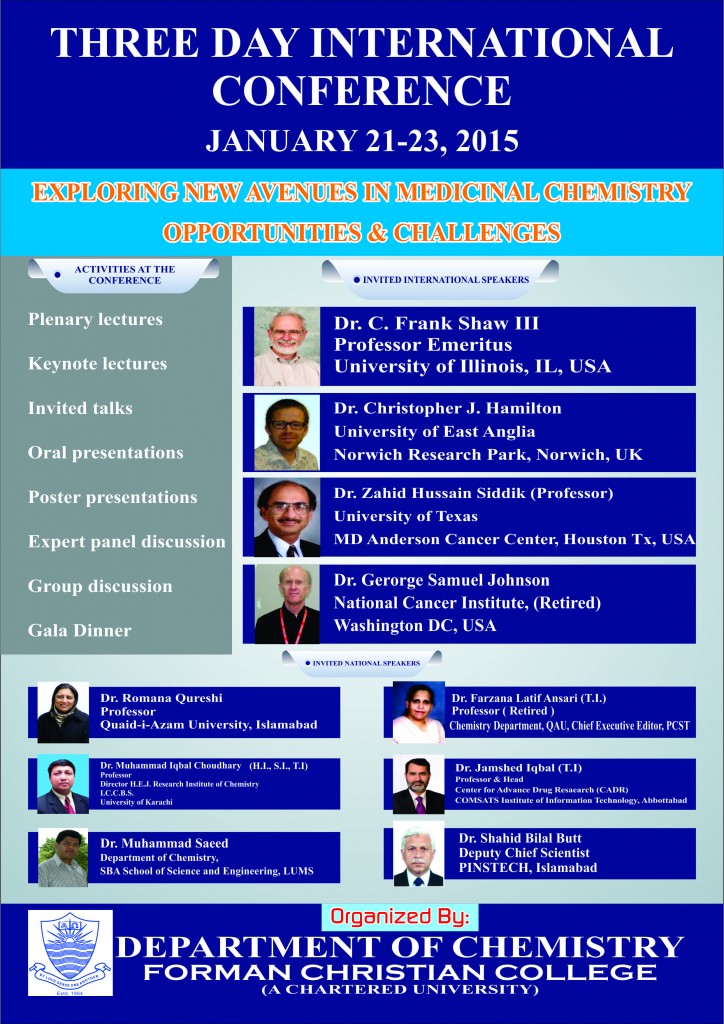 Regis

tration

Postgraduate and research students, personnel from research institutes, faculty members from colleges and universities and professionals from industries who are related to chemistry, medicinal chemistry are invited to attend this international conference.
Registration

Fee

On or Before November 30, 2014
For Industry/Non-academic: Rs 5000
For Faculty members: Rs 4000
For Students: Rs 3000
After November 30, 2014
For Industry/Non-academic: Rs 6000
For Faculty members: Rs 5000
For Students: Rs 3500
Important Note: Tea and Lunch will be served on all three days of the conference, there will be a gala dinner and cultural festival on the last day of the conference.
Last date for registration & submission of abstract is December 20, 2014.
For more details and registration kindly visit official webpage of the conference Click Here.
Event Title: Exploring New Avenues in Medicinal Chemistry: Opportunities and Challenges

Event Date: January 21-23, 2015

Event Venue: Armacost Science Building, Department of Chemistry, Forman christian College (A Chartered University), Ferozepur Road, Lahore, Pakistan
For

Correspondence

Dr. Mariya al-Rashida
Organizing Secretary
Cell: 0092-332-4213592
Email: [email protected]
Webpage: Click Here