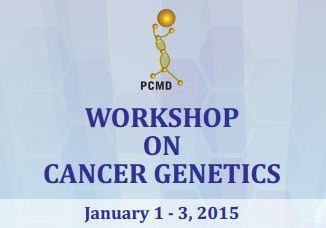 Workshop on Cancer Genetics is going to be organized by Dr. Panjwani Center for Molecular Medicine and Drug Research (PCMD), (International Center for Chemical and Biological Sciences), University of Karachi during January 1-3, 2015 at International Center for Chemical and Biological Sciences (ICCBS), University of Karachi, Karachi-Pakistan.
The cancer genetics field has grown at a very rapid pace and cancer genetic services are being offered in many hospitals. Several private and academic labs have started offering genetic tests for several clinically relevant genes and using a range of technology platforms from Sanger sequencing to Next Generation Sequencing.
The workshop will focus on various aspects concerning cancer genetics and analysis of genomic data. Participants will have the opportunity to practice with genomic data which are otherwise difficult to interpret. For this important workshop Prof. Dr. Rafat Ali Siddiqui (Cellular Biochemistry Laboratory, Methodist Research Institute, USA) is invited. Dr. Siddiqui is renowned scientist in the fields of cardiovascular and cancer research.
Sc

ope
To provide comprehensive knowledge on the regulation of cancer genes by hereditary and non-hereditary factors.
To inform about the regulation of oncogenes and tumor suppressor genes by histone and DNA modification.
To study about RNA interference on cancer genes expressions.
To learn about role of stem cell in cancer initiation and development.
To discover the role of diet in cancer development.
Workshop

Content

The program includes:
Introduction and classifications of cancer
Oncogenes
Anti-oncogenes or Tumor suppressor genes
Cancer Epigenetic
MicroRNA and regulation of oncogenesis
Analysis of genomic data
Diet and Cancer
Regis

tration

The workshop targets the full spectrum of scientists and research scholars from different fields including Biochemists, Geneticists, Physiologist, Microbiologist, Biotechnologist, and Cancer Biologists.
Registration

Fee
Rs. 5000/- (Cost includes lectures, practical sessions, literature, lunch and tea)
Registration Deadline: December 20, 2014
Event Title: Workshop on Cancer Genetics

Event Date: January 1-3, 2015

Event Venue: Latif Ebrahim Jamal National Science Information Center, International Center for Chemical and Biological Sciences, University of Karachi-75270, Pakistan
For

Correspondence

Dr. Humera Jahan
Assistant Professor,
Dr. Panjwani Center for Molecular Medicine and Drug Research (PCMD),
International Center for Chemical and Biological Sciences (ICCBS),
University of Karachi, Karachi-75270, Pakistan
Phone: 0092-21-111-222-292; Ext: 301
Email: [email protected]
Webpage: Click Here