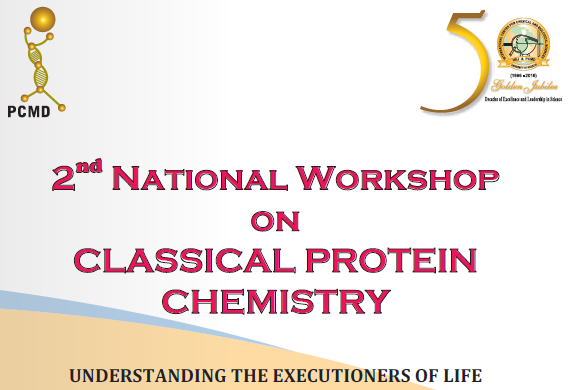 Dr. Panjwani Center for Molecular Medicine and Drug Research-PCMD (International Center for Chemical and Biological Sciences), University of Karachi is going to organize "2nd National Workshop on Classical Protein Chemistry: Understanding the Executioners of Life" during January 5-7, 2016 at PCMD-ICCBS, University of Karachi, Karachi-Pakistan.
Aim

and Scope
Understanding the structure and function of proteins is fundamental in biological and biomedical sciences as they have the central role in all cellular activities.
Protein chemistry is an area of biochemistry related to purifying proteins, investigating protein structure-function relationship and engineering proteins.
Protein chemistry contributes in many areas of biotechnology, involving recombinant DNA technology, analytical chemistry, clinical chemistry, medicinal chemistry, and protein therapeutics.
This workshop will provide an introduction to the methods and tools used in protein chemistry. It is designed for attendees who have fundamental knowledge of biology. Topics include the isolation and estimation of protein, protein purification techniques, including gel filtration, ion exchange chromatography, high-performance liquid chromatography (HPLC), and classical and modern sequencing techniques. Hands-on exercises on these techniques will be provided during workshop.
Regis

tration

This workshop is designed for attendees of life sciences background, with fundamental knowledge of biochemistry and molecular biology. Participation is open for researchers from academia, R&D institutions, and industries.

Registration Fee: PKR 8000

Registration Deadline: December 24, 2015
Event Title: 2nd National Workshop on Classical Protein Chemistry

Event Date: January 5-7, 2016

Event Venue: Dr. Panjwani Center for Molecular Medicine & Drug Research, International Center for Chemical and Biological Sciences (ICCBS), University of Karachi, Karachi-75270, Pakistan
For Registration

and Correspondence

Dr. Humera Waheed
Lab No. P-036
Dr. Panjwani Center for Molecular Medicine and Drug Research,
International Center for Chemical and Biological Sciences (ICCBS),
University of Karachi, Karachi-75270, Pakistan
Phone: 0092-21-111-222-292
Email: [email protected]

and

Dr. Sheeba Naz
VEPP Office, R-202, L.E.J. National Science Information Center,
International Center for Chemical and Biological Sciences (ICCBS),
University of Karachi, Karachi-75270, Pakistan
Email: [email protected]
Webpage: http://iccs.edu/news_head.php?id=MjEy