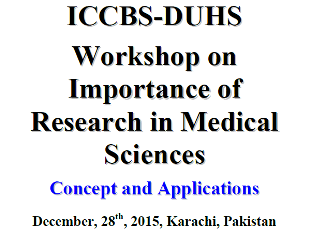 Free Online Workshop entitled, "Importance of Research in Medical Sciences" will be jointly organized by the International Center of Chemical and Biological Sciences (ICCBS), University of Karachi and Dow University of Health Sciences (DUHS), Karachi, Pakistan on December 28, 2015 at Prof. Salimuzzaman Siddiqui Auditorium, ICCBS, University of Karachi, Karachi-Pakistan.
Message

from Dr. Muhammad Iqbal Chaudhary – Director ICCBS

In today's world, science is changing very rapidly and becoming more complex. A single researcher can't bring all the expertise for the development and validation of medical innovations. Therefore, efficient sharing of expertise, knowledge between institutions has now become very important.

Research in the field of medicine is the search for better and safer cures to disease. Currently medical research is in infancy stage. After the research of half a decade in the field of molecular biology and genetics, we now understand that there are multiple underlying abnormalities to cause a single disease.

Given the emerging challenges of triple burden of diseases we are facing in many developing countries. It is essential that we make collaborative efforts to understand the nature of these challenges starting from molecular basis of health and disease, clinical manifestations and population-level burden impact. We hope that this first step in collaboration betweenICCBS and DUHS will go a long way in dealing with the contemporary and future health challenges.
Objec

tives
To improve the human health on regional, national and global level by collaborative research.
To strengthen the collaboration between clinical scientists and basic scientists.
The workshop will consist of lectures on Research in Medical Sciences by the eminent scientists and medical doctors from ICCBS and DUHS.
Regis

tration

The workshop targets the experienced investigators, all early career students, and postdoctoral fellows, and research associates, who wish to understand about the importance of research in medical sciences are invited to attend.

Registration Fee: Free

Registration Forms can be submitted at:
[email protected] or [email protected]
Event Title: Online Workshop: Importance of Research in Medical Sciences

Event Date: December 28, 2015

Event Venue: Prof. Salimuzzaman Siddiqui Auditorium, International Center for Chemical and Biological Sciences,University of Karachi, Karachi-75270, Pakistan and Video Conferencing Studios/Rooms of Participating Universities.
For Registration

and Correspondence

Dr. Hina Siddiqui
Assistant Professor,
H.E.J. Research Institute of Chemistry
International Center for Chemical and Biological Sciences, University of Karachi, Karachi-75270, Pakistan
UAN: 0092-21-111-222-292, Ext.156
Fax: 0092-21-34819018 and 0092-21-99261713
Email: [email protected]
Webpage: http://iccs.edu/news_head.php?id=MjEz