Dr. Panjwani Center for Molecular Medicine and Drug Research (International Center for Chemical and Biological Sciences) and Plant Biotechnology Information Center (PABIC) University of Karachi are jointly organizing "Workshop on Gene Cloning Techniques" during December 14-17, 2015 at University of Karachi, Karachi-Pakistan.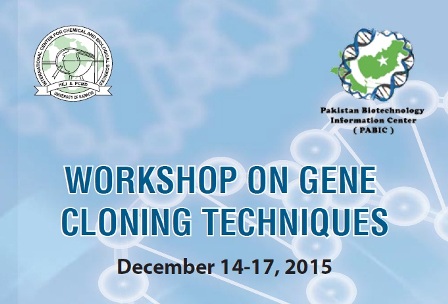 This workshop will be held at the scenic and secure campus of the International Center for Chemical and Biological Science at the University of Karachi. The ICCBS campus is located in the sub-urban of Karachi, some 20 km away from the city center. All participants will be accommodated at the newly furnished International Guesthouse of the ICCBS institutions. The campus is located 20 min driving distance from the Jinnah International Airport (Karachi). Many international airlines are routinely operating flights to and from the Airport.
Aim of this workshop is to provide basic understanding/knowledge of gene cloning and its applications in recombinant protein expression, purication and production. Major topics will include various cloning strategies, PCR, gene expression systems for production of recombinant proteins. In laboratory, major emphasis will be given to gene cloning (plasmid construction) and its analysis employing techniques such as PCR, digestion of gene of interest for subcloning into an expression vector, agarose gel, recombinant plasmid purication/ restriction enzymes digestion analysis of constructs and expression/ purication of recombinant proteins.
The workshop will include a series of lectures from Dr. Rehman Siddiqi, Clonetex Systems Inc., Austin, TX, USA, followed by laboratory sessions.
Scope
To provide comprehensive knowledge on the regulation of classical gene cloning.
To inform about the DNA recombinant technology with the introduction of Polymerase Chain Reaction (PCR).
To study the function of a gene of interest.
To learn about role of industrial application of gene cloning and recombinant protein expression.
Workshop Content
The program includes:
Strategies for gene cloning, protein expression and an overview of PCR technique
Codon usage and optimization for synthetic mammalian gene expression and restriction analysis of recombinant gene construct
Open discussion and Q/A session with lab sessions.
Who Should Attend?
This workshop is designed for participants of life sciences background with basic knowledge of biochemistry and molecular biology. Participation is opened for both students and professional scientists from academia and R&D institutions, including agricultural biotechnology, and pharmaceutical industries.
Registration
Registration Date: November 15, 2015
Applications Deadline: November 30, 2015
Registration Fee*: Rs. 10,000/- only
Payable by cheque or pay-order (In favor of Director PCMD)
*(Cost includes lectures, practical sessions, literature, lunch
and tea)
Event Title: Workshop on Gene Cloning Techniques 2015

Event Date: December 14-17, 2015

Event Venue: Dr. Panjwani Center for Molecular Medicine and Drug Research, International Center for Chemical and Biological Sciences, University of Karachi-75270, Pakistan
For Correspondence and Registration
Dr. Atia-tul-Wahab
Assistant Professor
Dr. Panjwani Center for Molecular Medicine and Drug Research,
International Center for Chemical and Biological Sciences,
University of Karachi
Office: 0092-21-111-222-292 Ext: 307
Email: [email protected]
and
Dr. Sammer Yousuf
Assistant Professor
H. E. J. Research Institute of Chemmistry,
International Center for Chemical and Biological Sciences,
University of Karachi.
Office: 0092-21-111-222-292 Ext: 112
Email: [email protected]
Webpage: http://iccs.edu/