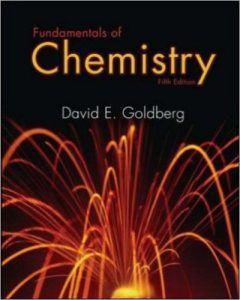 Free download Fundamentals of Chemistry (5th edition) written by David E. Goldberg in pdf.
According to the author; Chemistry is a dynamic and rapidly changing field. It is an extraordinarily interesting subject to study and an intriguing one to teach. The diversity of knowledge of the beginning student presents a unique challenge to the student and to the teacher. This text is written primarily for use in courses designed to prepare students who wish to pursue a science major requiring a comprehensive course in general chemistry. These students, in most cases, have never taken a course in chemistry or have had limited instruction in the basic math necessary to solve chemistry problems, so a chemistry course can be very threatening to them.
To address this issue, this text has four major goals:
To provide a clear, consistent methodology that a student can follow to develop conceptual and quantitative problem-solving skills.
To engage the student by relying heavily on analogies that relate chemistry to daily life.
To anticipate the points where students are apt to have difficulty and to smooth the path to understanding by explaining in detail what the pitfalls are and how to avoid them.
To present, at one time, points that may be easily confused with one another so that students can avoid making the errors. For example, if a radioactive decay problem asks for the number of atoms that have disintegrated instead of the number remaining after a certain time, a student might easily make a mistake. If in one problem both the number disintegrated and the number remaining are required, the student can hardly make that same mistake. In a given chapter some early problems ask related questions together and later ones ask them separately to ensure that the differences are not forgotten.
Con

tents
Basic Concepts
Measurement
Atoms and Atomic Masses
Electronic Configuration of the Atom
Chemical Bonding
Nomenclature
Formula Calculations
Chemical Reactions
Net Ionic Equations
Stoichiometry
Molarity
Gases
Atomic and Molecular Properties
Solids, Liquids, and Energies of Physical and Chemical Changes
Solutions
Oxidation Numbers
Electrochemistry
Chemical Equilibrium
Acid−Base Theory
Organic Chemistry
Nuclear Reactions
Free download Fundamentals of Chemistry 5th edition written by David E. Goldberg in pdf. from following download links.
Kindly follow the instructions to unlock the download link(s). Sometime download link(s) is/are not visible on mobile devices, so if you face this issue, kindly do visit this page via laptop/desktop computer.
[sociallocker id=1417]
[/sociallocker]
File Size: 14.9 MB. Pages: 715. Kindly read the disclaimer.
Don't forget to drop a comment below after downloading this book. ?
You may also like to download General Chemistry: Principles and Modern Applications 10e by Petrucci, Herring, Madura and Bissonnette in pdf.
P.S: If the download link(s) is/or not working, kindly drop a comment below so we could update the download link for you.
Happy downloading 🙂