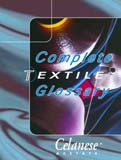 Complete Textile Glossary is compiled and published by Celanese Acetate LLC in 2001. This Complete Textile Glossary is intended to be a convenient reference for textile terminology. Although it covers all types of textile terms broadly, its special emphasis is on manufactured fibers – what they are, how they are made, and how they are used.
Free download Complete Textile Glossary by Celanese Acetate by clicking on following download button. This external download link is tested and found free of viruses.

Size: 1.92 MB. Kindly Read Disclaimer First.
How to Download?
After opening of download link press ctrl + S to save this book OR click on file menu a drop down menu will open then click on Download to save this book.