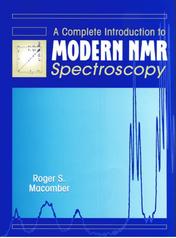 A Complete Introduction to NMR Spectroscopy is written by Roger S. Macomber and published by John Wiley and Sons Inc.
Now a days Nuclear Magnetic Resonance (NMR) Spectroscopy is widely used in worldwide for structure elucidation of compounds/molecules and this book is very useful to understand the basics of modern Nuclear Magnetic Resonance (NMR) Spectroscopy.
This book covers the following topics
Spectroscopy: Some preliminary considerations
Magnetic properties and nuclei
Obtaining an NMR spectrum
A little bit of symmetry
The 1H and 13C NMR spectra of Toluene
Correlation proton chemical shifts with molecular structure
Chemical shift correlation for 13C and other elements
First-order (weak) spin-spin coupling
Factors that influence the sign and magnitude of J: second order (strong) coupling effects
The study of dynamic processes by NMR
Electron paramagnetic resonance spectroscopy and chemically induced dynamic nuclear polarization
Double resonance techniques and complex pulse sequences
Two-dimensional nuclear magnetic resonance
NMR studies of biological important molecules
Solid-stat NMR spectroscopy
NMR in medicine and biology: NMR imaging
You can free download this book by clicking on download button.

P.S: After opening download link press ctrl + S to save this book OR click on file menu a drop down menu will open than click on Download to save this book.