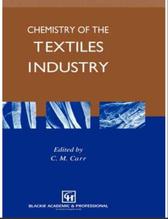 Chemistry of the Textiles Industry is edited by C. M. Carr (Department of Textiles, UMIST) and published by Blackie Academic and Professional in 1995.
Table of Contents
Introduction: the Structure of Fibres
The Whitening of Textiles
Fire-retardant Textiles
Physical and Chemical Effects of Domestic Laundering Processes
Easy Care
Machine-washable Knitwear – Production Routes
Coated and Laminated Fabrics
Scouring, Enzymes and Softeners
The Colouring of Textiles
The Environmental Impact of the Textiles Industry
Free download Chemistry of the Textiles Industry by C. M. Carr from following external download link. We tested this download link and found free from viruses.

Size: 15.2 MB. Read Disclaimer First.
How to Download?
After opening of download link press ctrl + S to save this book OR click on file menu a drop down menu will open then click on Download to save this book.