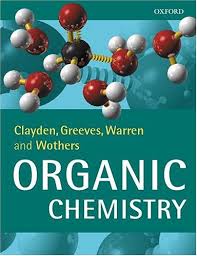 Clayden Organic Chemistry is written by Jonathan Clayden (Manchester University) Nick Greeves (Liverpool University) Stuart Warren (Cambridge University) and Peter Wothers (Cambridge University) and it is published by Oxford University Press in 2012.
A new style of textbook, aimed principally at the European (and British in particular) student. It is needed because almost all current organic chemistry texts are written to a fixed American pattern. This text is different from these in a number of important ways: The approach is based on explanation rather than fact. The functional group approach (alkane, alkene, alkyne) has served American State College readers well but increasingly students and instructors are attracted more to an approach based on mechanism and reaction type. This approach aims at understanding rather than factual knowledge and, though slower at the start, eventually gives the student power to understand compounds and reactions never previously encountered. This is a big advantage in a science already too large for individuals to learn and which is annually expanding at an ever greater rate. The basics of the subject are explained carefully and thoroughly. How to draw molecules realistically and how to draw mechanisms to reveal the fundamental chemistry are both emphasised. 
Table of Contents
What is organic chemistry?
Organic Chemistry and this book
Organic structures
Determining organic structures
Structure of molecules
Organic reactions
Nucleophilic addition to the carbonyl group
Delocalization and conjugation
Acidity, basicity, and pKa
Using organometallic reagents to make C-C bonds
Conjugate addition
Proton nuclear magnetic resonance
Nucleophilic substitution at the carbonyl (C=O) group
Equilibria, rates, and mechanisms: summary of mechanistic principles
Nucleophilic substitution at C=O with loss of carbonyl oxygen
Review of spectroscopic methods
Stereochemistry
Nucleophilic substitution at saturated carbon
Conformational analysis
Elimination reactions
Electrophilic addition to alkenes
Formation and reactions of enols and enolates
Electrophilic aromatic substitution
Electrophilic alkenes
Chemoselectivity: selective reactions and protection
Synthesis in action
Alkylation of enolates
Reactions of enolates with aldehydes and ketones: the aldol reaction
Acylation at carbon
Conjugate addition of enolates
Retrosynthetic analysis
Controlling the geometry of double bonds
Determination of stereochemistry by spectroscopic
Stereoselective reactions of cyclic compounds
Diastereoselectivity
Pericyclic reactions 1: cycloadditions
Pericyclic reactions 2: sigmatropic and electrocyclic reactions
Rearrangements
Fragmentation
Radical reactions
Synthesis and reactions of carbenes
Determining reaction mechanisms
Saturated heterocycles and stereoelectronics
Aromatic heterocycles 1: structures and reactions
Aromatic heterocycles 2: synthesis
Asymmetric synthesis
Organo-main-group chemistry I: sulfur
Organo-main-group chemistry II: boron, silicon, and tin
Organometallic chemistry
The chemistry of life
Mechanisms in biological chemistry
Natural products
Polymerization
Organic chemistry today
Free download Organic Chemistry by Jonathan Clayden, Nick Greeves, Stuart Warren and Peter Wothers in pdf from following external download link.
Sorry, this book is no longer available for download.
But you can download Oxford Organic Chemistry (2nd edition) written by Jonathan Clayden, Nick Greeves and Stuart Warren in pdf.
Size: 38.6 MB. Pages: 1469. Kindly read Disclaimer.
Don't forget to download Solutions Manual of Clayden Organic Chemistry from here.
How to Download?
When you click on download button a new window will open. Click on Download Anyway on that window to download this book.