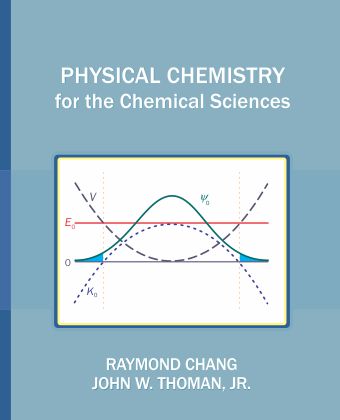 Free download Physical Chemistry for the Chemical Sciences written by Raymond Chang and Jr. Thoman John W. in pdf. published by University Science Books in 2014.
According to authors; Physical Chemistry for the Chemical Sciences is intended for use in a one-year introductory course in physical chemistry that is typically offered at the junior level (the third year in a college or university program). Students in the course will have taken general chemistry and introductory organic chemistry. In writing this book, our aim is to present the standard topics at the appropriate level with emphasis on readability and clarity. While mathematical treatment of many topics is necessary, we have provided a physical picture wherever possible for understanding the concepts. Only the basic skills of differential and integral calculus are required for working with the equations. The limited number of integral equations needed to solve the end-of-chapter problems may be readily accessed from handbooks of chemistry and physics or software such as Mathematica.
The lines drawn between traditional disciplines are continually being modified as new fields are being defined. This book provides a foundation for further study at the more advanced level in physical chemistry, as well as interdisciplinary subjects that include biophysical chemistry, materials science, and environmental chemistry fields such as atmospheric chemistry and biogeochemistry. We hope that you find our book useful when teaching or learning physical chemistry.
Contents
Introduction and Gas Laws
Kinetic Theory of Gases
The First Law of Thermodynamics
The Second Law of Thermodynamics
Gibbs and Helmholtz Energies and Their Applications
Nonelectrolyte Solutions
Electrolyte Solutions
Chemical Equilibrium
Electrochemistry
Quantum Mechanics
Applications of Quantum Mechanics to Spectroscopy
Electronic Structure of Atoms
Molecular Electronic Structure and the Chemical Bond
Electronic Spectroscopy and Magnetic Resonance Spectroscopy
Chemical Kinetics
Photochemistry
Intermolecular Forces
The Solid State
The Liquid State
Statistical Thermodynamics
Free download Physical Chemistry for the Chemical Sciences written by Raymond Chang and Jr. Thoman John W. in pdf. from following download links.
Kindly follow the instructions to unlock the download link(s). Sometime download link(s) is/are not visible on mobile devices, so if you face this issue, kindly do visit this page via laptop/desktop computer.
[sociallocker id=1417]
[/sociallocker]
File Size: 28 MB. Pages: 991. Kindly read Disclaimer.
You may also like to download General Chemistry: The Essential Concepts (sixth and tenth edition) by Raymond Chang and Jason Overby.
P.S: If the download link(s) is/or not working, kindly drop a comment below so we could update the download link for you.
Happy downloading 🙂