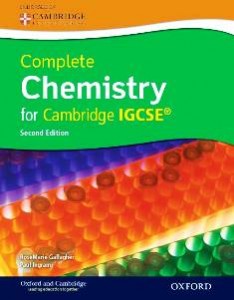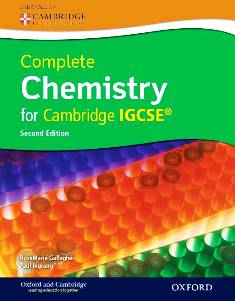 Complete Chemistry for Cambridge IGCSE (2nd Edition) is written by RoseMarie Gallagher and Paul Ingram; published by Oxford University Press in 2011 and endorsed by University of Cambridge, UK.
Complete Chemistry for Cambridge IGCSE  is very well written and updated book for O Level and IGCSE chemistry syllabus.
If you are taking IGCSE chemistry, using the Cambridge International Examinations syllabus 0620, then this book is for you. It covers the syllabus fully, and has been endorsed by the exam board. Each chapter is divided into two-page units. Some colour coding is used within the units, to help you use them properly.
Table

of Contents
States of matter
Separating substances
Atoms and elements
Atoms combining
Reacting masses and chemical equations
Using moles
Redox reactions
Electricity and chemical change
Energy changes and reversible reactions
The speed of a reaction
Acids and bases
The periodic table
The behaviour of metals
Making use of metals
Air and water
Some non-metals and their compounds
Organic chemistry
Polymers
In the lab
Free download Complete Chemistry for Cambridge IGCSE (2nd Edition) by clicking on download button. This download link is tested manually and found viruses free.
[sociallocker id="1417″]
[/sociallocker]
File Size: 34.7 MB, Pages: 322
P.S: After clicking on download button a new window will open press download button and then click on download anyway button, your download will start.
More IGCSE Chemistry Books