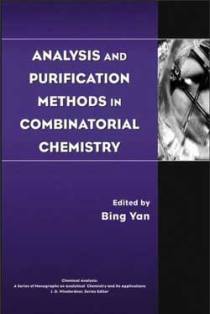 Analysis and Purification Methods in Combinatorial Chemistry is edited by Bing Yan and published by Wiley Intersciences in 2004.
Table of contents of this book
Analysis for feasibility and optimization of library synthesis
Quantitative analysis in organic synthesis with NMR spectroscopy
19F gel-phase NMR spectroscopy for reaction monitoring and quantification of resin loading
The application of single-bead FTIR and color test for reaction monitoring and building block validation in combinatorial library synthesis
HR-MS NMR analysis of compounds attached to polymer supports
Multivariate tools for real-time monitoring and optimization of combinatorial materials and process conditions
Mass spectrometry and soluble polymeric support
High-throughput analysis for library quality control
High-throughput  NMR techniques for combinatorial chemical library analysis
Micellar electrokinetic chromatography as a tool for combinatorial chemistry analysis: theory and applications
Characterization of split-pool encoded combinatorial libraries
High-throughput purification to improve library quality
Strategies and methods for purifying organic compounds and combinatorial libraries
High-throughput purification: triage and optimization
Parallel HPLC in high-throughput analysis and purification
Analysis for compounds stability and durgability
Organic compounds stability in large, diverse pharmaceutical screening collection
Quartz crystal microbalance in biomolecular recognition
High-throughput physicochemical profiling: potential and limitations
Solubility in the designs of combinatorial libraries
High-throughput determination of log D values by LC/MS method
Free download Analysis and Purification Methods in Combinatorial Chemistry by Bing Yan from following download link. This download link is tested and was found viruses free.

Download Instruction: After opening download link press ctrl + S to save this book OR click on file menu a drop down menu will open then click on Download to save this book