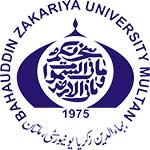 Bahauddin Zakariya University (BZU) Multan was founded in 1975. BZU is the largest public sector general university in south Punjab. BZU is charted by Government of Punjab and is Higher Education Commission (HEC) of Pakistan's recognized university. It offers 60+ undergraduate, graduate, post graduate programs in different subjects.
Department of chemistry BZU Multan was also founded in 1975. Later it was named as "Institute of Chemical Sciences". The department/institute offers different degree programs. and consist of well established students and research laboratories equipped with advanced research instruments.
Programs Offered
B.S (4 years)
M.Sc (2 years)
M.Phil (minimum 2 years)
Ph.D (minimum 3 years)
Students who passed BS/M.Sc from Bahauddin Zakariya University can only get admission in M.Phil and Ph.D programs.
CONTACT DETAILS

Postal Address: Department of Chemistry/Institute of Chemical Sciences, Bahauddin Zakariya University, Multan, Pakistan

Phone: 0092-61-9210071 to 74 UAN: 111-22-9988

Email: [email protected]