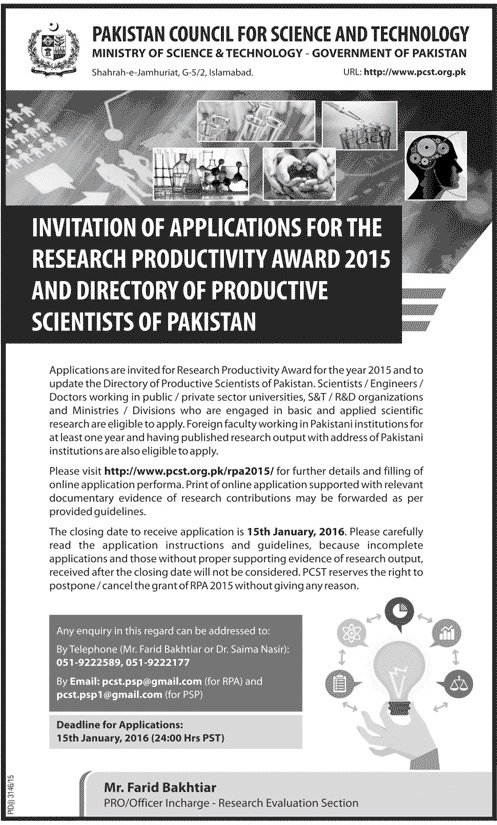 Pakistan Council for Science and Technology (PCST) invites applications for Research Productivity Award (RPA) for the year of 2015 and to update the Directory of Productive Scientists of Pakistan (PSP). Scientists, Engineers, Doctors working in public/privates sector universities, S&T / Research and Development (R&D) organizations and Ministries / Divisions who are engaged in basic and applied scientific research are eligible to apply.
Foreign faculty working in Pakistani institutions for at least one year and having published research output with address Pakistani institutions are also eligible to apply.
Please visit http://pcst.org.pk/rpa2015/ for further details and filling of online application proforma. Print of online application supported with relevant documentary evidence of research contributions may be forwarded as per provided guidelines.
The closing date to receive application is January 15, 2016. Please carefully read the application instructions and guidelines, because incomplete applications and those without proper supporting evidence of research output, received after the closing date will not be considered. Pakistan Council for Science and Technology (PCST) reserves the right postpone/cancel the grant of RPA 2015 without giving any reason.
Deadline for applications: January 15, 2016 (24:00 PST)
Any inquiry in this regard can be addressed to:
Mr. Farid Bakhtiar
PRO/Officer Incharge – Research Evaluation Section
Phone: 0092-51-9222589 and 0092-51-9222177
Email: [email protected] (for RPA)
[email protected] (for PSP)