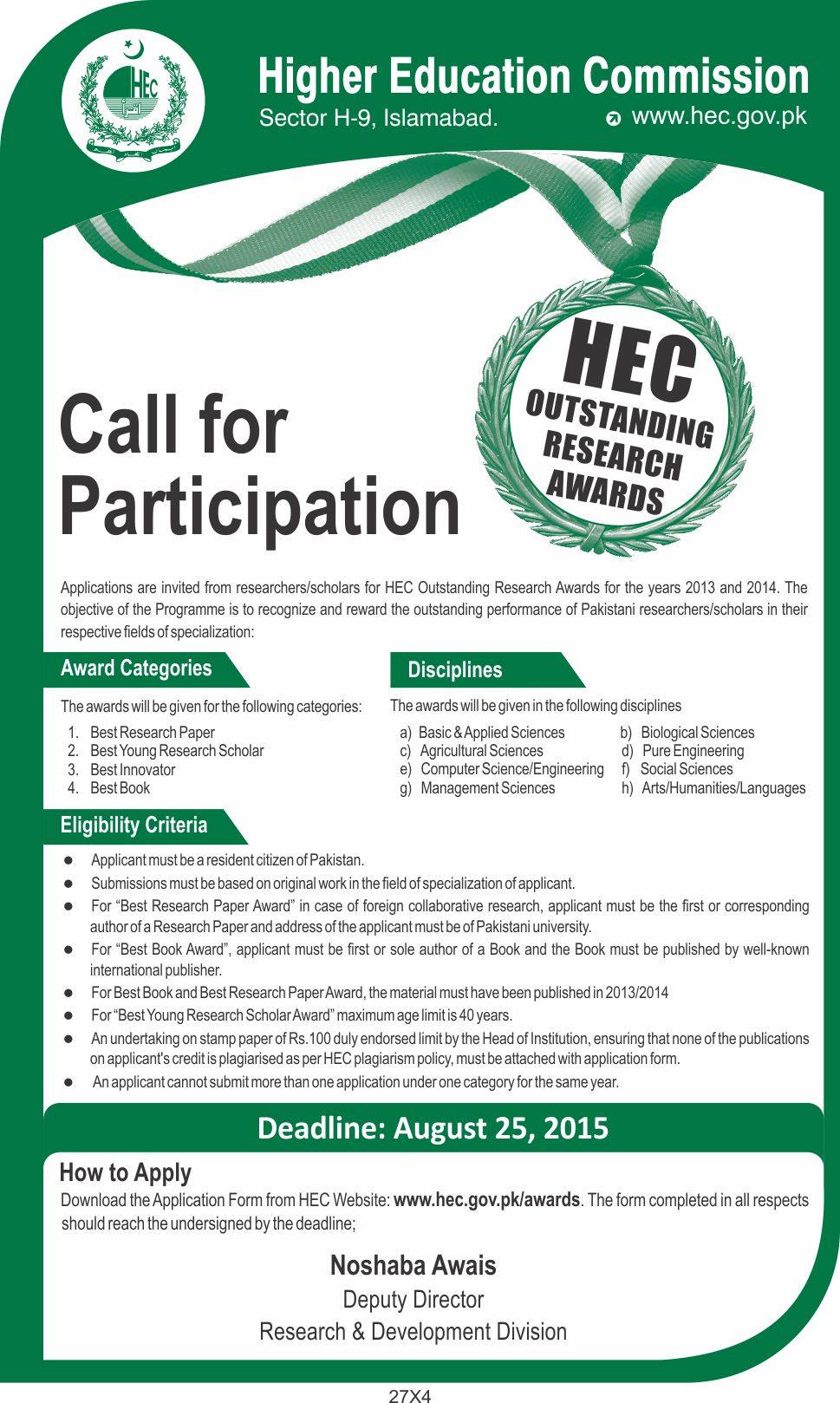 Higher Education Commission of Pakistan (HEC) has initiated the Outstanding research Awards program to recognize and reward the achievement of Pakistani researchers/scholars for research innovation and publication in their respective fields of specialization.
Applications are invited from researchers/scholars for HEC Outstanding Research Awards for the years 2013 and 2014.
Last Date for Submission of Application is August 25, 2015. Download Application Forms from Here.
Award Categories
The awards will be given for the following categories:
Best Research Paper

*

[34 awards/years]
Best Young Research Scholar [08 awards/year]
Best Innovator [01 award/year]
Best Book publication [08 awards/year]
*Cash award for "Best research paper" will be distributed equally among all authors of the paper.
Disciplines
Basic & Applied Sciences
Biological Sciences
Agricultural Sciences
Pure Engineering
Computer Science / Engineering
Social Sciences
Management Sciences
Arts / Humanities / Languages
Objectives
To recognize and reward achievements in research, innovation and publication in all areas of knowledge.

Establish a transparent, competitive and acceptable mechanism for selection.
Accelerate research & development by motivating scholars.
Diversify the fields of research & development by designing various rewarding categories.
Eligibility Criteria
Applicant must be resident citizen of Pakistan.
Submissions must be based on original work in the field of specialization of applicant.
For "Best Research Paper Award" in case of foreign collaborative research, applicant must be the first or corresponding author of a Research Paper and address of the applicant must be of Pakistani university.
For "Best Book Award" applicant must be first or sole author of a Book and the Book must be published by well-known international publisher.
For Best Book and Best Research Paper Award, the material must have been published in 2013/2014
For "Best Young Research Scholar Award" maximum age is below 40 years.
An undertaking on stamp paper of Rs.100 duly endorsed by the Head of Institution, ensuring that none of the publications on applicant's credit is plagiarized as per HEC plagiarism policy, must be attached with application form.
An applicant cannot submit more than one application under one category for the same year.
How to Apply
Last Date for the Submission of Application is August 25, 2015.
Application forms can be downloaded from here.
For more details kindly visit http://www.hec.gov.pk/awards
For Correspondence
Ms. Noshaba Awais
Deputy Director
Research & Development
Higher Education Commission
Sector H-9 Islamabad.
E-mail: [email protected] 
and
Mr. Rehan Jamil
Assistant Director
Research & Development
Higher Education Commission
Sector H-9 Islamabad.
E-mail: [email protected]