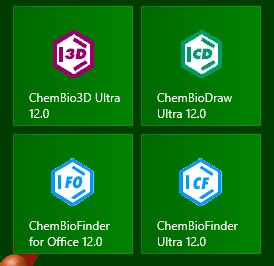 Free download ChemDraw Ultra 12.0 with serial key. Package includes ChemDraw Ultra 12.0, Chem3D Pro 12.0, ChemBioFinder for Office 12.0 and ChemBioFinder Std. 12.0.
The name ChemDraw has long been synonymous with the drawing of chemical structures, and CambridgeSoft has branched into additional tools for enhancing presentation and productivity. The current version of ChemDraw Ultra is a full-featured package for chemical communication with additional tools for bench and computational chemists in both industry and academia. This package is one of twelve "Suites"and three stand-alone products that include chemical structure drawing, according to the comparison chart on the CambridgeSoft website.
The add-on applications in the package incorporate ChemDraw structures and are almost as easy to use as ChemDraw itself. ChemBio3D Pro provides tools to create publication-quality three-dimensional molecular models and includes entry-level molecular modeling, including molecular dynamics simulations, and the calculation and display of electronic surfaces. The program can read and save in a variety of chemical formats and could be used to generate molecular structures for other modeling programs. MestReNova Lite is an NMR processing and display program that can import one-dimensional NMR spectra or FIDs as well as process and manipulate these data for presentation or publication. The Excel Plugin, in conjunction with MS Excel, and ChemBioFinder Std provide different ways of storing chemical information. With the Excel Plugin, chemical structures and a variety of chemical calculations can be stored and searched in an MS Excel spreadsheet. Modest stand-alone, searchable databases of chemical information, including structures, can be created using ChemBioFinder.
Free Download ChemDraw Ultra 12.0 from here.
Follow the instructions to unlock the download links. Sometime download link(s) is/are not visible on mobile devices, so if you face this issue, kindly do visit this page via laptop/desktop computer.
[sociallocker id=1417]
[/sociallocker]
Operating System: Windows 95/NT/98/2000/XP, Windows 7, Windows 8, Windows 10. File Size: 166 MB.
You can also buy ChemOffice Pro 16 from Amazon by clicking below image.

You may also like to free download ChemDraw 8.0 Pro and ChemDraw Professional 2016.
P.S: If the download link(s) is/or not working, kindly drop a comment below so we could update the download link for you.
Happy downloading 🙂