Free download CrystalMaker X software – crystal and molecular modelling software from chemistry.com.pk. CrystalMaker is the most-efficient way to visualize crystal and molecular structures. Its interactive design lets you "see the wood for the trees" and build your own visual understanding of complex materials. CrystalMaker transcends traditional crystallography software, letting you create dynamical visualizations with rotatable animations. Energy-modelling tools let you design and relax new structures, predict their vibrational properties, and explore how they interface with other materials.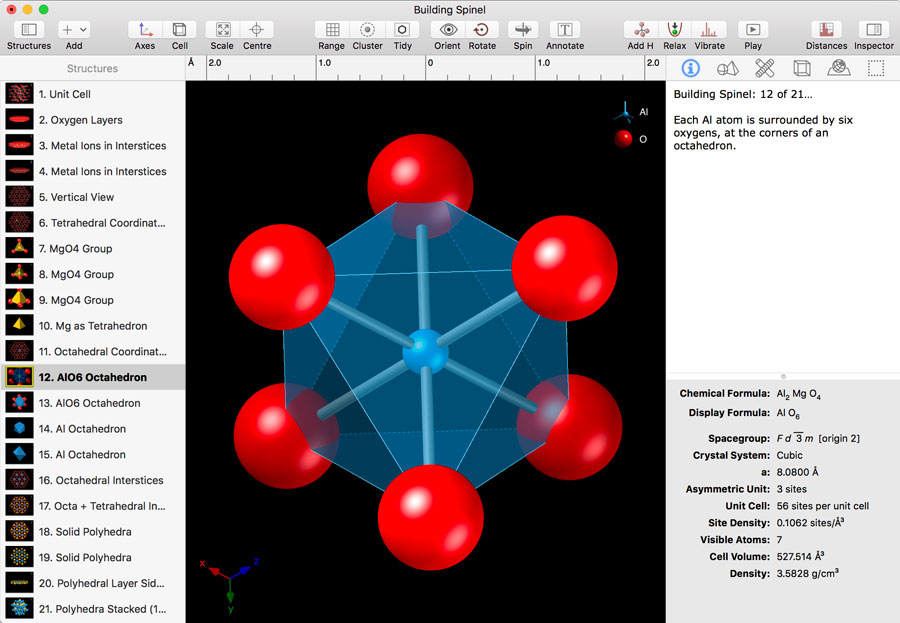 CrystalMaker provides a streamlined workflow that majors on productivity: just drag-and-drop your data files into the program for instant display in spectacular photo-realistic colour. Manipulate structures in real time, with the mouse. Multiple View "bookmarks" and undo levels encourage exploration and discovery – ideal for teaching and research.
CrystalMaker X features industry-leading 3D graphics, for spectacular – and fast – pixel-perfect visualizations with perfect overlap correction and translucency. Enjoy high-resolution "Retina" graphics on the latest Macs or Surface Pro devices. Save publication-quality graphics – with transparency – or generate engaging videos of rotating structures or animations.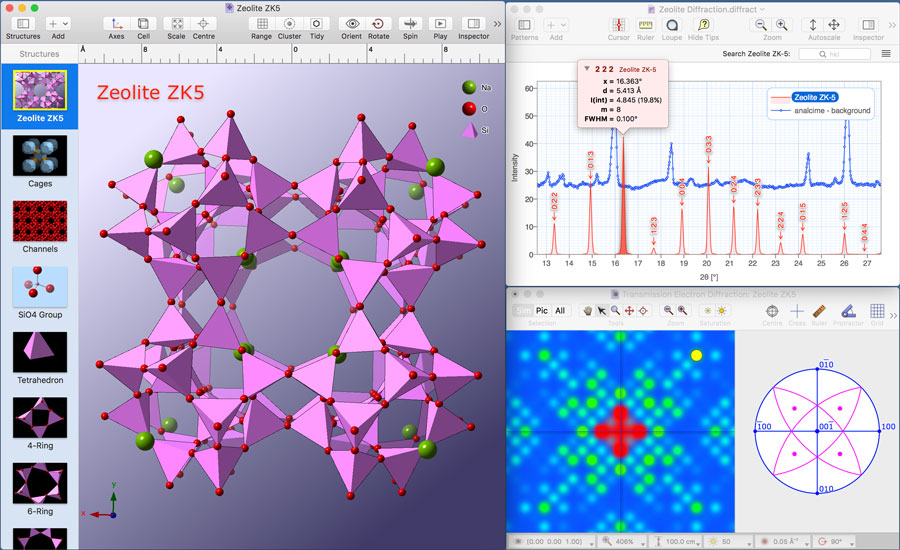 CrystalMaker is the first program of its kind to go beyond static structures, to let you explore structural behavior quickly and easily. Just drag-and-drop files into the same window, then rearrange their thumbnails to build your movie timeline. Manipulate and synchronize views, drag-and-drop thumbnails to rearrange them, then click the Play button and visualize the animation. It doesn't stop there: CrystalMaker X lets you rotate and scale animations, change their model types, view directions and model settings. You can also use the Playback Controls to "scrub" through an animation sequence: it's an ideal way to rapidly browse a simulation trajectory. Finally, you can export your animation as a movie – for use on the web or in a presentation.
As per a user review "very good software to simulate crystal structures and their diffraction patterns. What is available is very efficient. I am not 100% happy about features in lists of diffraction peaks and in the appearance of exported figures, but that may also be a problem due to a wrongdoing user. Of course it depends on what you want to do. I would be happy having stereographic projections. We also use here putting several crystals in one image to analyse orientation relationships. For that we use Vesta (free to use; which is also very powerful). In fact we use both softwares in parallel."
Free download CrystalMaker X software – crystal and molecular modelling software from here.
Follow these instructions to unlock the download links. Sometimes download link(s) is/are not visible on mobile devices, so if you face this issue, kindly do visit this page via laptop/desktop computer.
Download Link 1: CrystalMaker X
Download Link 2: CrystalMaker X
Password for Download Link: chemistry.com.pk
Winrar File Password: 123
File Size: 181MB. Download Instructions. Please read Disclaimer.
You may also like to free download:
Free Download Hundreds of Best-Selling Chemistry Books from Here.
P.S: If the download link(s) is/or not working, kindly drop a comment below so we could update the download link for you.
Happy downloading!