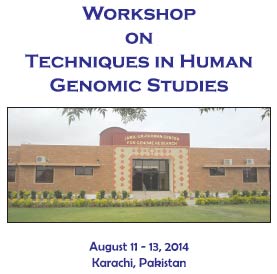 Jamil-ur-Rahman Center for Genome Research at International Center for Chemical and Biological Sciences (ICCBS), University of Karachi is organizing a 3-day workshop entitled "Workshop on Techniques in Human Genomic Studies" on August 20 – 22, 2014 at ICCBS, University of Karachi, Karachi – Pakistan.
Human genomics is a rapidly evolving field and gradually moving from bench to besides. Its main goal is a systematic understanding of different molecular mechanism which shape phenotype in human health and disease. This workshop will contribute in capacity building of Pakistani researchers in the frontier field of human genomics. Through this workshop the participants will learn the state-of-the-art techniques of human genomic studies, specially the theoretical and practical aspects of Sanger and next generation sequencing technologies and genome data analysis.
R

egistration
This workshop is designed for attendees of life science background with fundamental knowledge of biochemistry and molecular biology but no prior genomics experience is required.
Registration Fee
Registration fee is Rs. 8000/- (payable by check or pay order). Cost includes accommodation, lectures, practical sessions, literature, lunch and tea.
Registration Deadline: July 30, 2014
UPDATE: Revised Workshop Date: August 20-22, 2014
Event Title: Workshop on Techniques in Human Genomic Studies

Date: August 20 – 22, 2014

Venue: International Center for Chemical and Biological Sciences (ICCBS), University of Karachi, Karachi-75270, Pakistan
F

or

C

orrespondence

Dr. Ishtiaq Ahmad Khan
Assistant Professor (Workshop Coordinator)
Jamil-ur-Rahman Center for Genome Research at International Center for Chemical and Biological Sciences (ICCBS), University of Karachi, Karachi – Pakistan
Phone: UAN: 0092-21-111-222-292 Ext: 370
Cell: 0092-321-2825537
Email: [email protected]
Webpage: http://iccs.edu/news_head.php?id=MTE1