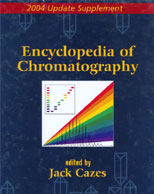 Encyclopedia of Chromatography (2004 update supplement) is edited by Jack Cazes (Florida Atlantic University Boca Raton, Florida, U.S.A.) and published by Taylor & Francis Group LLC in 2005.
The Encyclopedia of Chromatography, which was first published in 2001, has become an invaluable source of up-to-date information dealing with chromatographic techniques and methodologies for solving separation problems. It presents the fundamentals of problem solving and materials identification, as well as real-world applications, in a comprehensive, easy-to-read format supplemented with an abundance of up-to-date key references.
The Encyclopedia of Chromatography has kept up with the development of new chromatographic technologies, which have been progressing by leaps and bounds over the past several years. Our goal of developing a living compendium of information for novices and seasoned chromatographers alike has been realized; the Encyclopedia is now the leading reference in its field.
Free download Encyclopedia of Chromatography edited by Jack Cazes in pdf from following external download link.

Size: 68 MB, Pages: 1679. Kindly read Disclaimer.
How to Download?
When you click on download button a new window will open. Click on Download Anyway on that window to download this book.