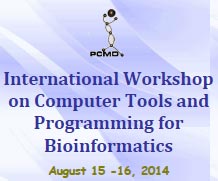 International Workshop on Computer Tools and Programming for Bioinformatics is going to be organized by Dr. Panjwani Center for Molecular Medicine and Drug Research (PCMD), International Center for Chemical and Biological Sciences (ICCBS), University of Karachi on August 15 – 16, 2014 at ICCBS, University of Karachi, Karachi – Pakistan.
Scope of this Workshop
Brief Introduction to Bioinformatics
Computer tools for Bioinformatics
Programming design and concepts
Python Programming for Bioinformatics
R for Microarray gene expression analysis
The workshop will consist of lectures of eminent scholars. Besides the scientific lectures by experts, this workshop will also offer the opportunity of hands on training on modern software and web services of computer tools that are used nowadays in the field of bioinformatics. Open discussion, followed by lectures, will hopefully further strengthen the knowledge and understanding of the modern bioinformatics tools and further research partnerships between the participants.
Registration
Chemists, biochemists, biotechnologists, bioinformaticians and postgraduate scholars from public and private sector universities and research institutions are invited to attend this workshop.
Registration Fee
Registration fee is Rs. 8000/- (payable by check). Cost includes accommodation, lectures, practical sessions, literature, lunches and teas.
Registration Deadline: August 10, 2014
Event Title: International Workshop on Computer Tools and Programming for Bioinformatics

Date: August 15 – 16, 2014

Venue: Dr. Panjwani Center for Molecular Medicine and Drug Research (PCMD), International Center for Chemical and Biological Sciences (ICCBS), University of Karachi, Karachi-75270, Pakistan
For Correspondence
Dr. Reaz Uddin
Assistant Professor
Lab 103 PCMD Extension,
Dr. Panjwani Center for Molecular Medicine and Drug Research, International Center for Chemical and Biological Sciences, University of Karachi, Karachi 75270, Pakistan
Phone: UAN: 0092-21-111-222-292 Ext: 336
Email: [email protected]
Webpage: http://iccs.edu/news_head.php?id=MTE0