Department of Nuclear Engineering, Pakistan Institute of Engineering & Applied Sciences (PIEAS), Islamabad is organizing a short course for young scientists and engineers entitled "Key Issues in Nuclear Science and Technology" during October 13-22, 2014 at Islamabad, Pakistan.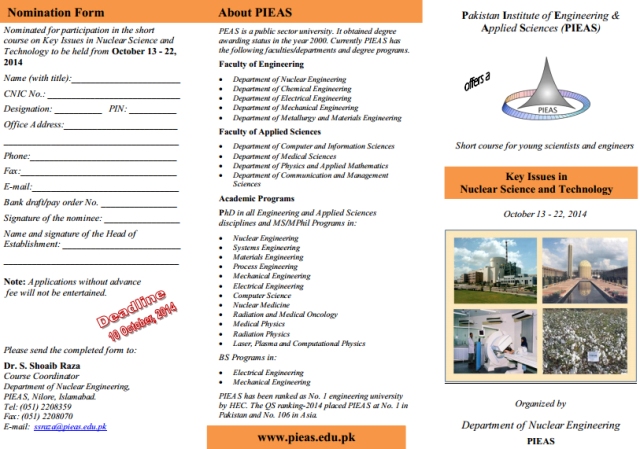 Introduction

to Course

Pakistan is among the few developing countries that are using nuclear technology for power generation. Now, the country has three operational and two under construction nuclear power plants. It has experience and infrastructure for nuclear power planning, conducting site selection studies, nuclear fuel processing, plant operation, plant life extension and manufacturing of some spare parts of nuclear power plants. Safety remains on the top in nuclear power program of Pakistan.

The country has more than four decades of safe operational experience even without the vendor support for the first nuclear power plant. Lessons have been learnt from the
accidents at Chernobyl and Fukushima nuclear power plants to enhance safety of the existing and future nuclear power plants and preparedness for emergency caused by such disasters. This training course touches upon all components of Pakistan's nuclear power program.

Application of nuclear science in medicine, agriculture, hydrology and industry has direct contribution to the socio-economic development of the country. The training course presents scope and coverage of PAEC program in these areas, also. After attending this course, the participants will be up-to-date on:
Major issues in nuclear power technology with particular reference to Pakistan's nuclear power program
Scale of nuclear science application in medicine, agriculture, hydrology and industry in Pakistan
Course

Outline
Historical development of nuclear engineering education
Post-Fukushima global nuclear power prospects
Worldwide experience of nuclear power plant operation
Nuclear power economics and financing
Indigenization of nuclear power plants in Pakistan
Innovations in nuclear power reactor designs
Nuclear power project management
Quality assurance in nuclear industry
Decommissioning of nuclear facilities
Regulatory framework for nuclear power
Nuclear material transportation
Radioactive waste management
Fuel for nuclear power program of Pakistan
International cooperation in nuclear science and technology
Nuclear politics
Nuclear power security
Public acceptance of nuclear power
Nuclear civil liabilities
Safety issues in nuclear power plants
Application of radioisotopes in medicine, agriculture, hydrology and industry
Regis

tration

Registration is open for young scientists and engineers.
Course

Fee

Pakistani Rupees: Rs. 8,000/-

The Fee Covers:
Refreshments and lunch during the course
Transportation from PAEC Guest House in Islamabad to PIEAS
Course material, certificates and other expenses
Participants are requested to book room in PAEC Guest House in Islamabad
Bank draft/Pay order of the course fee must be issued in favour of HEAD LAO, PIEAS
Deadline for Nominations: October 10, 2014
Number of Participants: Maximum 40 (on first come first serve basis)
For further details visit: PIEAS Short Course
Event Title: Short Course: Key Issues in Nuclear Science and Technology

Event Date and Time: October 13 – 22, 2014 (Mon-Fri 09:00 am to 03:30 pm)

Event Venue: PIEAS lecture room I-201, Pakistan Institute of Engineering & Applied Sciences (PIEAS), Nilore, Islamabad, Pakistan
For

Correspondence

For forwarding nominations with fee payments and additional information about the course please contact the course coordinators:

Dr. S. Shoaib Raza
Department of Nuclear Engineering, PIEAS, Nilore, Islamabad.
Phone: 0092-051-2208359
Fax: 0092-051-2208070
Email: [email protected]

and

Dr. Waseem Siddique
Department of Nuclear Engineering, PIEAS, Nilore, Islamabad.
Phone: 0092-051-2207381-7/3338
Fax: 0092-051-2208070
Email: [email protected]

Webpage: http://www.pieas.edu.pk/events/course/kinst2014/kinst2014.pdf