The Nation-wide Entrepreneurial Challenge – Innovation & Entrepreneurship Mega Event. DICE INVENT 2014 is an innovative and a unique program aimed at the promotion of Innovation and Entrepreneurship in Pakistan.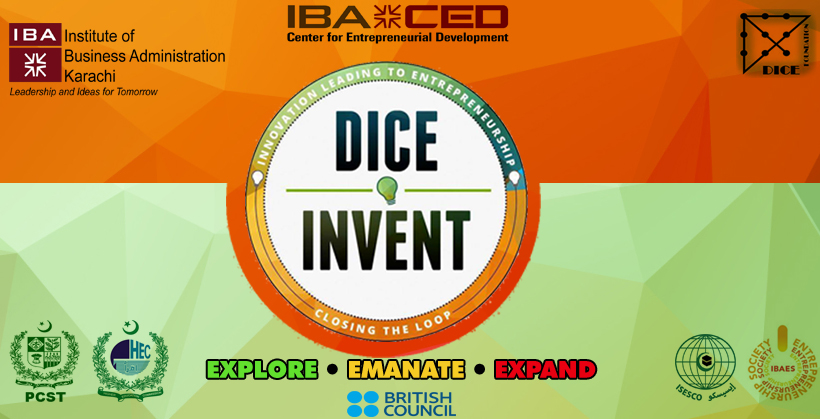 About

DICE

Distinguished Innovations, Collaboration and Entrepreneurship DICE Foundation, is a non-profit organization, registered in Michigan, USA. DICE Foundation in collaboration with its domestic and international partners, is pursuing a DICE Program in Pakistan, to foster culture of Innovation in the country and transform Pakistan into an innovation-driven economy. The current partners of DICE Program in Pakistan are: HEC, PCST, British Council, COMSATS, IBA, IST, NUST, NED, SMEDA, PSF, ICT, UOG, UET-KPK and UET-Taxila. Annual DICE Mega Exhibition & Competition is one of the major initiatives of the DICE Program and has been conducted every year since 2007. The idea behind the event is to motivate academia, industry, and entrepreneurs to come to a common platform to showcase innovations and technologies, share knowledge and further collaborate with each other for the rapid development of Innovative products, necessary for the economic development of the country.

This year's Invent 2014 has been merged into DICE INVENT 2014 Innovation & Entrepreneurship Mega Event.
About

DICE-INVENT 2014

Combining the visions of IBA and DICE Foundation has led to creating synergy through Innovation and Entrepreneurship.Innovation promotion will lead to a culture of new ideas, methods, processes, and business models followed by the entrepreneurial journey of opportunity recognition, evaluation, customer acquisition and growing the organization. With the combination of innovation and entrepreneurship along with the resultant synergy that is thus created can help to establish an ecosystem in the country which can help reap the citizen's not just economic benefits but will also benefit the society atc large by creating entrepreneurs that are socially, ethically and environmentally aware.
Objectives

of DICE-INVENT 2014
To foster culture of Innovation and Entrepreneurship in the country and make it part of Nation's DNA.
To provide platform for academia, industry, government and entrepreneurs to interact, share knowledge and collaborate on innovations and commercialization, for socio-economic development of Pakistan.
To promote entrepreneurship ecosystems in the country.
To develop problem solving entrepreneurial mindset that helps produce result-oriented entrepreneurs in Pakistan.
To inculcate social and ethical values in the budding entrepreneurs.
To increase understanding of knowledge exchange as a concept.
To expedite the process of Digital Revolution in the country by motivating both academia and industry to acquire, promote and utilize state-of-art digital technologies for the rapid development of innovative products.
To portray an image of the country in the eyes of international community as a highly innovative and high-tech nation fully capable of developing innovative products and providing high tech services to the rest of the world.
Salient

Features of DICE-INVENT 2014
The DICE-INVENT 2014 program offers a new vision as this entrepreneurial journey will be reaching to the students throughout Pakistan and providing them an opportunity to discover their abilities and develop an entrepreneurial mindset. This initiative will open avenues in a different dimension and shall enable Pakistani youth to play a positive part in the socio economic development of the country.

This program will look at entrepreneurship education through a different lens i.e. it will be more practical with a complete hands-on approach. The program foundations are based on the effectuation theory, the entrepreneurial method and that of the entrepreneurial-plus model.

A hands-on year long program of training and interaction with faculty and mentors.

This program consists of three components: explore & evaluate, launch, and grow opportunities

Each component has various stages i.e. entrepreneurship theory and practice, experiential activities, development of entrepreneurial skills and values.

Every participant team has to launch a new venture to graduate irrespective of failure or success.

The program consists of numerous guest speaker sessions, field visits, hands on exercises in selling and creativity.

Various modules related to value building i.e. perseverance, hard work and commitment are also part of the program.

A Mega Innovation and Entrepreneurship event, DICE-INVENT 2014, will be hosted by IBA Karachi in December 2014.

IBA and DICE team will facilitate the students to find mentors

The pedagogy is unique and a mix of traditional, experiential and hands-on exercises to develop skills and value strengthening exercises.
Who

can participate?
Student teams from any HEC recognized degree awarding university/institute.

Each team can have a max of five members. Each team is encouraged to have one member from Industry.

Each university needs to submit their most innovative projects from various disciplines.

The innovative and entrepreneurship startups/projects can be from any of the following categories:

Group A: Engineering & Technology, Computer Sciences and Information Technology
Group B: Physical Sciences and Agricultural Sciences
Group C: Arts & Humanities, Business and Social Sciences
Group D: Medical Sciences and Veterinary Sciences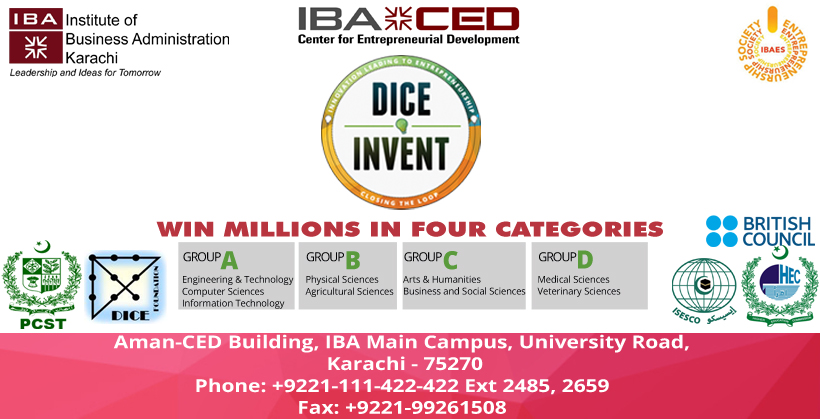 Business

/ Product / Project Requirements
Participating teams will have to come up with an innovative project idea, one page project description, and team membership at the time of registration.

Teams should preferably utilize state-of-art technologies/software to design the innovative product concept.

Projects having potential to benefit local industry/economy will be given special consideration.

Teams will need to submit a complete update report during the various stages of the program.

Teams will be required to display and present their projects on the final day of the event.
Regis

tration

Students who are interested in participating in DICE-Invent 2014 should have a Startup Idea and a Team. Each student would have to register himself/herself as a Participant and at the same time either submit a new Startup idea or associate as a team member with an already registered idea by filling out the necessary details in the registration form given below.

Participants will have to ensure that their teams are completed before the final registration deadline. Teams should be multidisciplinary with at least two fields of study represented. Teams should have minimum 3 and maximum 5 members (Refer To Team Members Eligibility and Team Structure) with an additional person from the industry/academia working as mentor of the team.

Click Here to Register Your Team. Last Date for Registration: September 30, 2014

For further details visit: http://140.174.69.133/invent
Contact

Details

DICE-INVENT Secretariat Address
DICE-INVENT Secretariat, Room 102, AMAN-CED Building, IBA Main Campus, University Road Karachi -75270, Pakistan
Phone: 009221-111-422-422 Ext 2659
Fax: 0092-21-99261508
Email: [email protected]
Website: diceinvent.iba.edu.pk