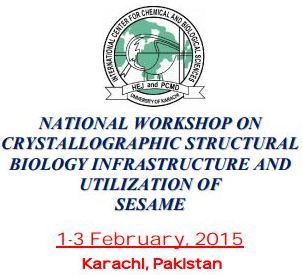 International Center for Chemical and Biological Sciences (National Committee of Crystallography / IUCr Adhering Body) is going to organize a 3-day National Workshop on Crystallographic Structural Biology Infrastructure and Utilization of SESAME during February 1-3, 2015 at International Center for Chemical and Biological Sciences (ICCBS), University of Karachi, Karachi, Pakistan.
Scope

and Objectives

This national workshop will provide a platform for structural biologists from different universities / R & D institutions of Pakistan to build their capacity at the interface of chemistry and biology with the help of leading synchrotron experts and SESAME representatives. This event will help in developing convergence of experiences and opinion and a better understanding about the tremendous benefits of synchrotron sources from SESAME with an emphasis in drug discovery and development and understanding of diseases at the molecular level.
Regis

tration

Those planning to participate in the capacity building workshop are required to use the downloadable application form, available on ICCBS website (www.iccs.edu) or the attached registration form and submit it via e-mail or fax to contact person by January 20, 2015. Students are required to send their forms with the consent of their respective supervisors / Head of the departments.
Registration

Fee
For Students: Rs. 4000
For Faculty Members: Rs. 10,000
Registration Deadline: January 20, 2015
Event Title: National Workshop on Crystallographic Structural Biology Infrastructure and Utilization of SESAME

Event Date: February 1-3, 2015

Event Venue: International Center for Chemical and Biological Sciences, (H.E.J. Research Institute of Chemistry and Dr. Panjwani Center for Molecular Medicine
and Drug Research), University of Karachi, Karachi-Pakistan
For

Correspondence

Prof. Dr. M. Iqbal Choudhary, H.I., S.I., T.I.
Director
International Center for Chemical and Biological Sciences, and
Secretary General
National Committee of Crystallography / IUCr Adhering Body
Phone: 0092-21 99261701, 0092-21-99261702, Fax: 0092-21-99261713 and 0092-21-34819018
Email: [email protected]
Email: [email protected]
Webpage: http://iccs.edu/