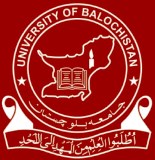 University of Balochistan (commonly known as Balochistan University) is a public sector general research university located in Quetta, Balochistan. Balochistan University was established in 1970 and is one of the oldest university of the Balochistan Province. This is university is chartered by Government of Balochistan and recognized by Higher Education Commission of Pakistan. University of Balochistan has a vision to become a model public sector university providing affordable, quality, higher education opportunities to develop the potentially rich human resource in Balochistan through knowledge centered teaching and research while maintaining and fostering high levels of ethical and professional standards and promoting national identity.
Faculties

of Balochistan University
Faculty of Management Sciences, Business and Information
Faculty of Social Sciences
Faculty of Education and Humanities
Faculty of Literature and Language
Faculty of Basic Sciences
Faculty of Earth and Environment
Faculty of Life Sciences
Faculty of Pharmacy
Department of Chemistry, University of Balochistan is one of the oldest and largest department of the university in terms of the number of students enrolled and number of faculty members. The department has well equipped teaching and research laboratories along with departmental library. The department offers admissions in graduate, postgraduate and doctorate academic programs. Master program offered with the specialization in analytical chemistry, organic chemistry, inorganic chemistry, biochemistry and environmental chemistry.
Academic

Programs
 Master of Science (M.Sc – 2 years)
Master of Philosophy (M.Phil – 2 years)
Doctor of Philosophy (Ph.D – 3 years)
Contact

Details

Postal Address: Department of Chemistry, University of Balochistan, Sariab Road, Quetta, Balochistan

Phone: 0092-81-9211266 Extensions: 1340 and 1341