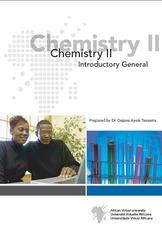 Chemistry II Introductory General is prepared by Dr. Dejene Ayele Tessema (African Virtual University)
Table of Content
Introductory General Chemistry II
Prerequisite Course or Knowledge
Time
Materials
Module Rationale
Overview
General Objective(s)
Specific Learning Objectives
Pre-Assessment
Key Concepts (Glossary)
Compulsory Readings
Compulsory Resources
Useful Links
Learning Activities
Synthesis Of The Module
Summative Evaluation
References

Student Records

Main Author of the Module
File Structure
Free download Chemistry II Introductory General by Dr. Dejene Ayele Tessema (African Virtual University) from following external download link. This download link is tested and found free from viruses.

Size: 2.71 MB
Download Instructions
After opening download link press ctrl + S to save this book OR click on file menu a drop down menu will open than click on Download to save this book.