Introduction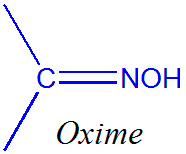 Oximes are the chemical compounds belonging to imines class. They are generally classified into aldoxime and ketoxime. Aldoxime have one alkyl group while ketoxime have two alkyl groups as side chains. Another type of oxime is called as amidoxime where carbon as one nitrogen as oxime and one disubstituted nitrogen atom.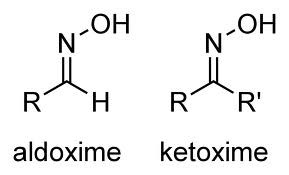 Victor Meyer, a german scientist along with Alois Janny, was the first scientist to synthesize 'Acetoximsaur' also known methylglyoxime. Oximes have numerous advantages in organic synthesis which are used for isolation, purification and characterization of aldehydes and ketones.
hydrogen and alkyl group, respectively, and hydroxyl group are on the same side of carbon-nitrogen bond. If they are on the opposite side then the formation is termed as 'Anti'. This is because of restricted rotation of C=N bond in oxime.Stereochemically, oximes can be 'Syn' if in case of aldehyde and ketone,
Oximes are the derivative of carbonyl group but they are less reactive as they are less electrophillic due to less electronegativity of Nitrogen as compare to oxygen in carbonyl. In short, they are low respondents to nucleophillic attack. Generally, oximes are generated by reacting hydroxylamine with aldehyde or ketone [1] but it can also be made by reacting nitrites with compounds containing acidic hydrogen [2].
Most of all of oximes are highly crystalline and the oximation is a very efficient method for characterization and purification of carbonyl compounds. These compounds not only represent a convenient series of derivatives of carbonyl compounds but also used intermediate for the preparation of amides by the Beckmann rearrangement, nitrones, hydroximinoyl chlorides, nitrile oxide and chiral α-sulfinyl oximes. The usual method for the preparation of oximes involves treatment of hydroxyl amine hydrochlorides in a basic aqueous medium with adjustment of pH. Because of improper levels of solvent or reactant being used some oximes are liquid or oil-out and the operating condition of this method are difficult.
Chemical Reactions

Hydrolysis: Oximes proceeds to hydrolysis easily by heating in the presence of inorganic acids, leading to the formation of ketones/aldehydes and hydroxylamines.
Reduction: Oximes can be reduced by sodium metal, sodium amalgam, hydrogenation, or reaction with hydride reagents producing respective amines [3].
Amide:

Oximes can also be altered into corresponding amide derivatives by treatment with various acids. Such type of reaction is termed as 'Beckmann rearrangement

[4]

. The derivatives, thus obtained, can be transformed into a carboxylic acid by means of acidic/basic hydrolysis. The main application of this reaction lies in the industrial synthesis of CAPROLACTAM.

Neber Rearrangement: Oxime can be converted to alpha-aminoketone, in the presence of tosyl halide, a base and water [5].
Tiemann Rearrangement: Amidoxime react with benzenesulfonyl chloride to form substituted ureas [6].
Cyclization: Phenethyl ketone O-2,4-dinitrophenyloximes can be encycled with NaH to form respective quinolines. Acetyloximes of γ,δ-unsaturated ketones can be cyclized through photochemical electron transfer or through hydroquinone-catalyzation and also with copper catalysts [7].
Other Transformations: Oximes can be transformed into esters, hydrazides, thioacids and hydroxamates, α-oximinokethones, which are also key intermediate in heterocyclic synthesis and in chemical transformation. Also they can be derivatize to Gem-Halo nitro compounds and also to α-halogen nitroso compounds by reacting them versatile halogenating agents like aqueous hypohalogenous acids, elemental halogens and N-halosuccinimide with oximes. By the oxidation with lead tetracetate or lead tetrabenzoate, we can prepare the important compound germinal nitrosoacetates.[7]
 Applications of Oximes
Dimethylglyoxime is the reagent for analysis of nickel and also a popular ligand its own right.
Oxime compounds such as Pralidoxime [7] is used as an antidote for nerve agents. Perillartine is used an artificial sweetener in Japan as it is 2000 times sweeter than sucrose.
Glyoxime and salicylaldoxime are the chelating agents.
Furazan ring formation is possible due to its synthetic precursor, diaminoglyoxime.
Methyl ethyl ketoxime is a skin preventing additive in many oil-based paints.[8]
---
References
Meyer & Janny, 1882a, p. 1166
Hans Fischer (1943), "2,4-Dimethyl-3,5-dicarbethoxypyrrole", Org. Synth.; Coll. Vol. 2: 202
George, Frederick; & Saunders, Bernard (1960). Practical Organic Chemistry, 4th Ed.. London: Longman. p. 93 & 226.
Gawley, R. E. (1988). "The Beckmann reactions: rearrangement, elimination-additions, fragmentations, and rearrangement-cyclizations. (Review)". Org. React. 35: 14–24.
March, Jerry (1985), Advanced Organic Chemistry: Reactions, Mechanisms, and Structure (3rd ed.), New York: Wiley,
Robert Plapinger, Omer Owens (1956). "Notes – The Reaction of Phosphorus-Containing Enzyme Inhibitors with Some Hydroxylamine Derivatives". J. Org. Chem. 21 (10): 1186. doi:10.1021/jo01116a610
Aaron Rowe (27 November 2007). New Nerve Gas Antidotes. Wired (magazine)
Narasaka, K., Kitamura, M.; Synthesis of azaheterocycles by electron reduction of oximes, ARKIVOC 2006 (vii) 245-260.