Department of Chemistry, University of Sargodha is going to organize a one-day Symposium titled "Green Chemistry: An Innovative Route to Sustainable Scientific Developments" on 30th April 2014 at Pharmacy Hall, Department of Pharmacy, University of Sargodha, Sargodha, Pakistan.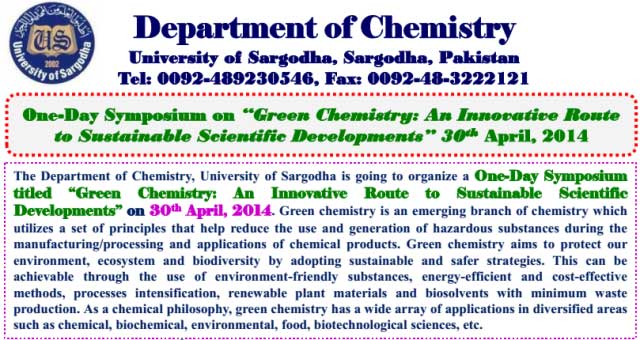 Areas to be Covered
Green Chemistry – Concepts and Principles
Green Extractions of Plant Bioactives
Green Synthesis
Use of Renewable Plant Resources and Biodiversity Conservation
Green Fuels and Green Biotechnology
Registration
Registration is open for everyone who is interested to learn about green chemistry, specially research students.
Registration Fee
For Students: Rs. 500/-
For Faculty: Rs. 1000/-
The registered participants will be provided symposium related material and local hospitality as well as certificates.
Event Title: One-Day Symposium on Green Chemistry: An Innovative Route to Sustainable Scientific Developments

Date: 30 April 2014

Venue: Pharmacy Hall, Department of Pharmacy, University of Sargodha, Sargodha, Pakistan
Correspondence Contact Details
Dr. Mudassir Iqbal
Organizing Secretary
Assistant Professor,
Department of Chemistry, University of Sargodha, Pakistan
Phone: 0092-300-6005249
Email: [email protected]
Dr. Tahir Mehmood
General Secretary
Assistant Professor,
Department of Chemistry, University of Sargodha, Pakistan
Phone: 0092-345-4011185
Email: [email protected]
Webpage: http://uos.edu.pk/