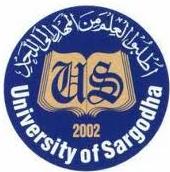 University of Sargodha (UOS) is located in Sargodha city. University of Sargodha was founded in 2002. It is public sector university. UOS is chartered by Government of the Punjab and recognized by Higher Education Commission of Pakistan.
University has seven sub campuses in different cities of Pakistan.
Bhakkar Sub-Campus
 Mianwali Sub-Campus
Gujranwala Sub-Campus
Faisalabad Sub-Campus
Faisalabad Women Sub-Campus
Mandi Bahauddin Sub-Campus
Lahore Sub-Campus
Department of Chemistry is located in central campus of the university in Sargodha. The department offers undergraduate, graduate and postgraduate academic programs in the field of chemistry.
Academic Programs
Bachelor of Science (BS – 4 years)
Master of Science (M.Sc – 2 years)
Master of Philosophy (MPhil – 2 years)
Doctor of Philosophy (Ph.D – 3 years)
Contact Details

Postal Address: Department of Chemistry, University of Sargodha, University Road, Sargodha, Pakistan

Phone: 0092-48-9230546  and 0092-48-9230811 to 15 Ext. 350

Email: [email protected]

Webpage: http://uos.edu.pk/uploads/FacultiesAndDepartments.aspx