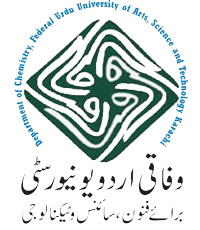 Urdu Science College was a well established college of Karachi, which was upgraded in 2002 as a federal university. The name of university is now Federal Urdu University of Arts, Sciences and Technology. The university is a public sector university and is a HEC recognized university. This university offers all courses in both English and Urdu languages. It is up-to student he/she select which language to study. Federal Urdu University has 3 main and one sub campus in Islamabad, Karachi and Lahore.
Department of Chemistry of Federal Urdu University is one of the old and well established department of the university. The department is located at Main Campus, Gulshan-e-Iqbal Karachi.
The department has more than 17 full time Ph.D faculty and well equipped research laboratories. It has one seminar library and one digital library.
Courses Offered
Department of Chemistry, Federal Urdu University offers following degree programs in both English and Urdu Languages
Morning Programs
BS (4 years)
M.Sc (2 years)
M.Phil/MS (minimum 2 years)
M.Phil leading to Ph.D (minimum 4 years)
Ph.D (minimum 3 years)
Evening Programs
All evening programs of the department of chemistry are self-financed.
B.Sc (Hons.) (3 years)
BS (4 years)
M.Sc (2 years)
CONTACT DETAILS

Postal Address: Department of Chemistry, Federal Urdu University of Arts, Sciences and Technology, Main Campus, Gulshan-e-Iqbal, Karachi-75300, Pakistan

Phone: 0092-99244141 to 49 Extension: 2113

Email: n/a

Webpage: http://www.fuuast.edu.pk and http://chem-fuuast.weebly.com/