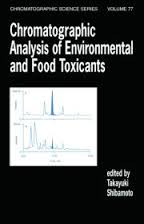 Chromatographic Analysis of Environmental and Food Toxicants is edited by Takayuki Shibamoto (University of California, Davis, California) and published by Marcel Dekker Inc. in 1998.
Table of Contents
Polycyclic Aromatic Hydrocarbons
Polychlorinated Biphenyls
Analysis of Nitrosamines in Food and Beverages
Analysis of Food and Related Samples for Heterocyclic Amine, Mutagens and Carcinogens
Chromatographic Analysis of Mycotoxins
Nitrobenzene and Related Compounds
Chromatographic Analysis of 2,3,7,8-Tetrachlorodibenzo-p-dioxin
Organophosphorous Esters
Chromatographic Analysis of Insecticidal Carbamates
Toxic Carbonyl Compounds
Free download Chromatographic Analysis of Environmental and Food Toxicants edited by Takayuki Shibamoto by clicking on download button.

Size: 14.7 MB. Please Read Disclaimer First.
Download Instructions
After opening of download link press ctrl + S to save this book OR click on file menu a drop down menu will open then click on Download to save this book.