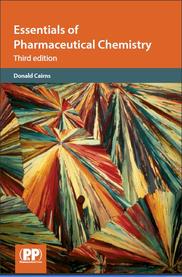 Essentials of Pharmaceutical Chemistry (third edition) is written by Donald Cairns (Associate Head of School of Pharmacy, The Robert Gordon University, Aberdeen, UK) and published by Pharmaceutical Press in 2008.
The last few years have seen many changes to the science and practice of pharmacy. The number of UK Schools of Pharmacy is set to double, independent pharmacist prescribing is a reality, and the Royal Pharmaceutical Society is set to split with the creation of a regulatory body and a Royal College. This third edition of Essentials of Pharmaceutical Chemistry has been written against this backdrop of major change. A new chapter on regulation and licensing of drugs and medicines has been included and every other chapter has been reviewed and updated, particularly the chapter on analytical spectroscopy which now includes a section on structure elucidation.
Table

of Contents
Chemistry of acids and bases
Partition coefficient and biopharmacy
Physicochemical properties of drugs
Stereochemistry
Drug metabolism
Volumetric analysis of drugs
Analytical spectroscopy
Stability of drugs and medicines
Kinetics of drug stability
Licensing of drugs and the British Pharmacopoeia
Answers to problems
Free download Essentials of Pharmaceutical Chemistry (third edition) written by Donald Cairns in pdf from following external download link.
File size: 3.41 MB, Pages: 297. Kindly read Disclaimer.
Download

Instructions

After opening download link press ctrl + S to save this book.