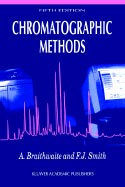 Chromatographic Methods (5th Edition) is written by A. Braithwaite (Department of Physical Sciences, Nottingham Trent University) and F. J. Smith (Department of Chemistry and Chemical Engineering, University of Paisley) and published by Kluwer Academic Publishers in 1999.
Table of Contents of Chromatographic Methods
Introduction
Theoretical Considerations
Planar Chromatography
Liquid Phase Chromatography on Open Columns
Gas Chromatography
High Performance Liquid Chromatography
Chromatography and Spectroscopic Techniques
Processing Chromatographic Data
Model or Practical Experiments in Chromatographic Techniques
Illustrative Problems in Chromatography
Free download Chromatographic Methods (5th Edition) by A. Braithwaite and F. J. Smith in pdf. by clicking on following download button. This is an external download link. We've tested it and found free of spams and viruses.

Size: 23.2 MB. Kindly Read Disclaimer First.
Download Instructions
After opening of download link press ctrl + S to save this book OR click on file menu a drop down menu will open then click on Download to save this book.