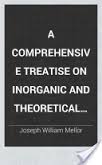 A Comprehensive Treatise on Inorganic and Theoretical Chemistry Vol II is compiled by J. W. Mellor published by Longmans, Green and Company Ltd. London in 1927.
In this treatise Florine F, Chlorine Cl, Bromine Br, Iodine I, Lithium Li, Sodium Na, Potassium K, Rubidium Rb and Caesium Cs are discussed.
Free download this prestigious  treatise by clicking on download button. Download link is tested and found scam and spam free.

P.S: After clicking on download button a new window will open press download button and then click on download anyway button, your download will start. 🙂